About Mark "Mad Dog" Madsen's Website:
Mark "Mad Dog" Madsen and Terry Jeffers worked together to create MarkMadsen.com during the years of 2004-2005.  Jeffers had just secured the domain name and had been a longtime friend of the family dating back to their time together in Danville, CA.   Since that time the two collaborated together on the content and the site during the following years and included Diary entries along with the "Mad Dog Blog" area of the site where Mark would write thoughts himself on the season and what was happening with the Minnesota Timberwolves or past memories with the Lakers.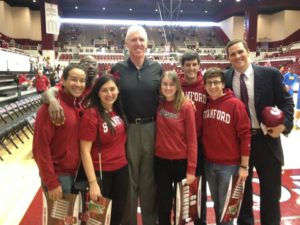 During the time that Madsen and Jeffers worked together, Jeffers frequently posted game updated and photographs from live NBA action with permission from the NBA and Getty Images.  The website grew from a hobby into what is now a hub of sharing basketball coaching information, and all types of other general interest articles.  Submissions are welcome and the site is aimed to be a fun and interesting internet locale where people can share and exchange ideas.  After Jeffers passed away the maintenance and optimization of this site has been delegated to other entities.  Madsen is currently a player development coach for the Los Angeles Lakers.
Mark Madsen will attempt to answer correspondence sent to him here at this site but due to the rigors of the NBA season and his offseason coaching duties he may not be able to answer all emails.  We appreciate the time that you have taken to come visit the site.  You will find various sections of this website including "Things to do in Los Angeles," a "Sports" sections and even old "Diary" entries from Mark's time when he was playing for the Minnesota Timberwolves and living in Eden Prairie, MN.  As Madsen started both his playing and coaching career at Stanford, there will be plenty of "Cardinal Love," throughout the site. The mailbag section will be updated from time to time and we will attempt to publish information and topics that not only cover the basketball world and the NBA, but many different walks of life.